Bennett, Kristen
BACK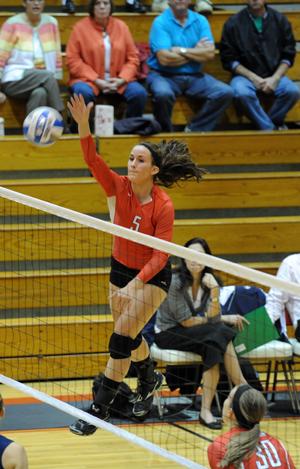 When Wadsworth native Kristen Bennett transferred in from Xavier University before her sophomore year, few knew of the impact she would ultimately have. Bennett made an immediate volleyball impact as a sophomore before bursting onto the scene as a junior, earning all-conference honors to go along with a first team Academic All-America selection.
Her junior year was far from done, however, as she joined the track and field team and encountered immediate success. She broke the league's indoor long jump record by posting 18-9 ¼ at the conference meet, later finishing her winter season at the NCAA Championships.
Bennett followed with a record-setting outdoor season, winning both the long jump and triple jump at the OAC outdoor meet. Her long jump mark of 19-8 ¼ set the OAC's outdoor record, while her triple jump finish (38-7) became a new school record. She qualified for the NCAA Outdoor Championships in both events, and earned first team Academic All-America.
Bennett put the exclamation mark on her college career with an outstanding senior volleyball campaign as the program captured its first-ever OAC Tournament championship, with Kristen blasting home the final point. She earned first team Academic All-America honors for a third time and was also recognized as an American Volleyball Coaches Association All-American.
Kristen was the first Otterbein athlete to earn Academic All-America honors in two different sports and ended her career in Westerville as a five-time NCAA qualifier. She is one of just two Cardinals to ever receive three Academic All-America awards.