Bedell, Sarah
BACK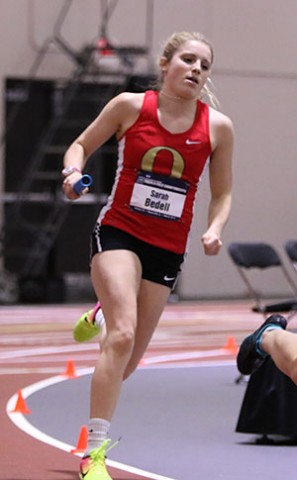 Sarah Bedell emerged as a sophomore to find success in multiple events, beginning with indoor season as part of the All-American distance-medley relay team.
Bedell ran the 400-meter leg on the winning foursome at the Division III All-Ohio, and then teamed with classmates Heather Sandvik, Katy Foltz and Claire Lamb to set a new school record (11:51.37) at the Tufts Final Qualifying.
The squad later took fifth place at the NCAA Indoor Championships in both 2017 and 2019, with Bedell on her usual 400 leg, good enough to make the podium and warrant the national distinction.
Bedell then turned her sights to outdoor season, winning the 400-meter hurdles at the Division III All-Ohio and then the Ohio Athletic Conference twice. She finished the All-Ohio race in 1:03.47, the second-fastest time in program history.