Russell, Lindsey
BACK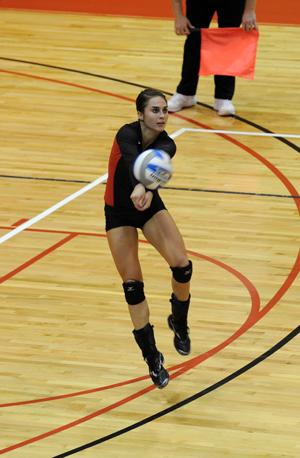 Otterbein volleyball was searching for answers while in rebuilding mode when Dublin native Lindsey Russell enrolled in the fall of 2008. She quickly became the team's starting libero, giving second-year head coach Monica McDonald the first piece to the puzzle.
Russell and fellow classmate Renee Willke helped grow the program as the Cardinals flew onto the scene in 2009 with a school-record 24 wins. The next year saw 26 victories and the program's first-ever NCAA Division III Tournament appearance, and the team tallied another 26 wins during her senior season, which also ended in the NCAAs. She and teammate Ally Nagle became the program's first two All-Americans, both earning honorable mention status.
A three-time All-OAC pick, Russell finished her career as Otterbein's all-time record holder in every dig category: digs in a match (44), digs in a season (778), dig average per set (6.7), and digs in a career (2,428). Her career total was good enough to rank fourth on the Ohio Athletic Conference's all-time list.
Russell was a near perfect straight-A student during her time in Westerville, garnering Academic All-OAC, All-District, and culminating with a 2011 second team Academic All-America selection. She became, at the time, just the ninth athlete in school history to receive All-American honors for academic and athletics in the same season. Russell earned a celebrated place in the history of Otterbein Athletics not just for her long list of accolades, but also for the perseverance in helping Otterbein volleyball grow into what is it today.