Acosta, Hailey
BACK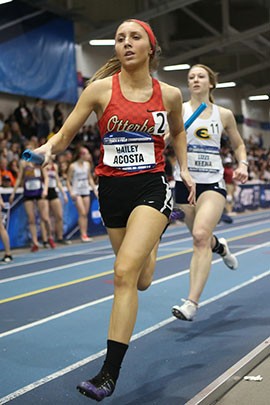 Hailey Acosta made her first national appearance as a junior with the distance-medley relay team during indoor season, running the 400-meter leg as part of the varied foursome.
She had won a pair of open 400 titles just prior at the All-Ohio and OAC Championships, warranting her a spot as part of the established DMR. In her first appearance, the group set a new school record by running 11:42 at Tufts to cement its spot at nationals in Boston.
Acosta and teammates Heather Sandvik, Katy Foltz and Claire Lamb them combined to run 11:44 at the NCAA's in Boston, with an anchor leg by Lamb giving the squad a fourth-place podium finish. It was the third-straight All-American honor for the relay but first for Acosta.
She carried that experience and momentum into outdoor season, winning All-Ohio and OAC titles once more in the open 400-meter dash. Acosta was also All-OAC as a member of the 4x4 relay.