Beers, Karen
BACK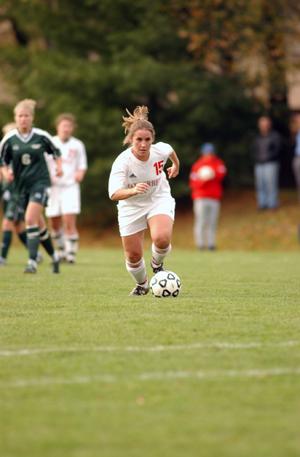 Karen Beers Horvath joined the women's soccer program in 2003 and immediately made an impact.
Her second collegiate goal provided a hint of the contributions she might make, scoring a "Golden Goal" in the 108th minute at nationally-ranked Denison with a rope into the far upper 90 from 30 yards out. Karen would score nine more goals that season to lead the team in scoring, an achievement she repeated as a sophomore and junior.
Karen's most prolific season for scoring came in 2005 as she led the team with 13 goals and seven assists. She became the program's all-time leading scorer midway through conference play in 2005, and, by the end of her career in 2006, had accumulated 98 points (42 goals and 14 assists). Her scoring record still stands today.
Karen garnered her All-American award in 2005, as she and teammate Jenna Brader became the first two women's soccer All-Americans in school history. That 2005 season ended after a shootout in the NCAA Sweet 16, but not before the team tallied an Ohio Athletic Conference (OAC) and program record 20 wins, a mark matched only by the 2009 and 2010 Cardinals.
The Cardinals posted a 63-10-9 record during her time at Otterbein, winning OAC Championships and making NCAA Tournament appearances in 2004, 2005, and 2006.