Denz, Rachel
BACK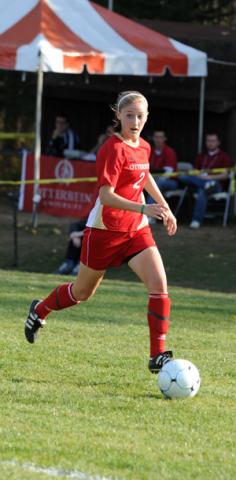 Rachel Denz continued a family tradition and enrolled at Otterbein in 2010 to play soccer and begin working toward her Psychology degree. With her sister, Patience, having already finished a soccer career for the Cardinals, Rachel was the next in line to be part of a championship program.
Rachel scored her first-career and game-winning goal as a sophomore against John Carroll, helping give the program its 200th-overall victory. Her big-game theatrics would continue later that season as she registered the equalizing goal in the team's NCAA Elite 8 match against Denison.
Denz stepped into a leadership role during her junior and senior seasons as team captain. She went on the receive a handful of individual awards over her final two years, becoming a two-time Academic All-OAC and All-District selection.
Her senior season was highlighted with an OAC regular-season championship, giving Denz and her classmates three regular-season titles in four seasons. Denz finished by earning a spot on the All-OAC first team and solidified her mark as a student-athlete with a third team Academic All-America selection. She maintained a perfect 4.0 grade-point average over four years while her teams went a combined 63- 13-7.