Fairchild, Trey
BACK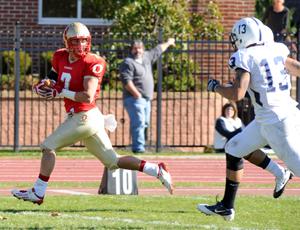 Trey Fairchild didn't start his college football career at Otterbein, but ended up as one of the most prolific wide receivers in the program's history. A Dublin Coffman graduate, Fairchild bounced around from Syracuse University to Eastern Kentucky University before returning to central Ohio.
Trey was an instant impact for the 2010 Cardinals, leading the team with 538 receiving yards and six touchdowns while making three or more receptions in nine of Otterbein's 10 games. He enjoyed his best season in 2011, hauling in 66 passes for 1,133 yards and eight touchdowns. He also averaged 10.3 yards on 12 punt returns and 24.2 yards on 35 kick returns to average 213.8 all-purpose yards per game to rank third in NCAA Division III.
The awards began to pile up as he was named the Most Outstanding Receiver in the Ohio Athletic Conference in addition to being voted to the first team. His season culminated with a nod to the D3football.com All-American third team.
Otterbein was projected to finish near the bottom of the conference in 2012, but Fairchild, a preseason All-American, helped lift the Cardinals to an 8-2 record and a third-place finish in the league. Trey missed two games that season, but still went on to earn second-team All-OAC and first team All-Ohio honors. Fairchild concluded his college football career by wearing the Otterbein "O" on his helmet two more times by playing in the 2012 Aztec Bowl in Mexico and the 2013 Ohio College Football Senior Bowl.