Seesholtz, Pat
BACK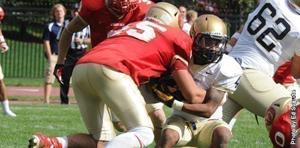 Pat Seesholtz established himself as one of the most dominant defensive ends in program history in 2012 when he became only the third Otterbein defensive lineman to earn All-American honors. Pat held key role in the development of one of the best defenses in the Ohio Athletic Conference (OAC) during the 2012 season. Seesholtz led the OAC with 10.5 sacks and finished second in tackles for loss at 17. Nationally, he ranked 16th in sacks and 22nd in tackles for loss in NCAA Division III.
The 2012 Cardinal defense led the OAC in turnover margin (+18), ranked second in total defense (297.9 yards per game), and third in scoring defense (16.1 points per game). Otterbein, picked seventh in the preseason poll, rebounded from a 3-7 record to go 8-2 in 2012 and finish third in the conference behind Heidelberg and eventual national champion Mount Union.
Pat's signature moment of the season was in the Cardinal's 23-9 win over crosstown rival Capital. With the score 10-9, Capital took over possession on their own 24-yard line after an Otterbein punt with 3:52 left in the game. On the first play, Seesholtz intercepted a pass at the line of scrimmage and took it in for a touchdown. The play helped Otterbein take command of the game and cruise to a 23-7 win.
Along with All-American honors, Seesholtz was named All-Ohio D-III First Team, All-OAC First Team, and he was named the Paul Hoernemann Award as the league's top defensive lineman.