Smith, Brant
BACK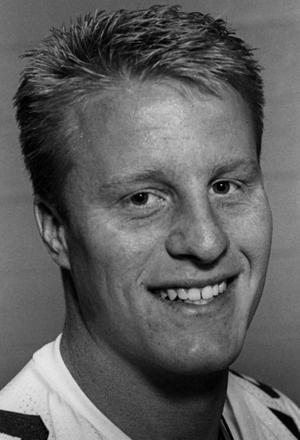 Brant Smith proved to be a multi-dimensional football player for the Cardinals from 1990-93. A great athlete with size and speed, Brant made an impact on both sides of the ball in becoming a four-year starter and letterman.
A Business Administration major, Smith began his career at tight end before eventually splitting time at tight end and defensive end during his sophomore season. He became Otterbein's leading tackler on defense as a junior in 1992, registering 90 tackles (32 unassisted) to go along with four pass sacks and four fumble recoveries.
Brant was named a defensive co-captain prior to the start of his senior season in 1993, but quickly transitioned back to offense and had a stellar fall campaign at tight end. He earned Champion USA honorable mention All-American honors after finishing with 47 receptions for 658 yards and three touchdowns.
Smith's overall numbers included 60 catches for 785 yards and five touchdowns on offense, and 127 tackles on the defensive side.