Snider, Don
BACK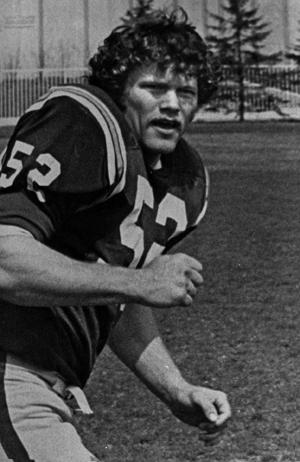 Don Snider was a ferocious linebacker for the Cardinal football team, becoming a four-year starter and letterman from 1974-77. Otterbein had not finished a season over .500 for nine-consecutive years until the arrival of Snider's freshman class, which helped the Cards to a 6-3 season in 1974 behind 131 combined tackles from Snider (29 solo, 102 assisted).
Under the guidance of Head Coach Rich Seils, Snider led the team in tackling three different years and would have made it all four had he not suffered a broken leg during his sophomore campaign, in which he had an incredible 98 tackles through five games. He rebounded nicely as a junior, however, tackling everything in sight and picking off two passes as Otterbein went 6-2-1. Snider captured Ohio Athletic Conference (OAC) Defensive Player of the Year honors that season, a rare feat for an underclassman, and set the school's single-season record with 147 total stops (31 solo, 116 assisted). The number is even more impressive when you consider the team played a nine-game schedule instead of 10.
The momentum continued into 1977 as Otterbein, a rather small but quick, aggressive, and hard-hitting bunch, played to an impressive 8-1 record. Snider finished runner-up for OAC Defensive Player of the Year despite another five picks and high-tackling total, but was recognized on the national scene as a third-team All-American by the Associated Press.
A seven-time OAC Player of the Week, Snider was team co-captain and all-conference his final two seasons. Snider helped Otterbein go a combined 24-12-1 during his four-year career before graduating with a liberal arts degree and becoming a self-employed businessman. In addition, he later captured a pair of national championships in the 40-year old division of the Unites States Handball Association.