Stark, Jeff
BACK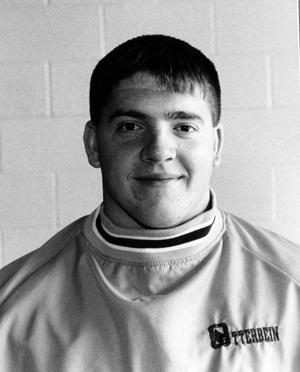 Jeff Stark was a fixture on the offensive line for Otterbein from 1994-97, becoming a four-year starter and letterman. Jeff lined up at offensive guard his first three seasons, earning honorable mention All-Ohio Athletic Conference (OAC) recognition in 1995 and second-team honors in 1996.
Stark, a very intense player who possessed excellent feet and a great work ethic, was moved from guard to tackle before the start of his senior season. He lived up to expectations, earning second-team All-OAC honors once again while receiving his third-straight "Most Outstanding Offensive Lineman" award from the Cardinal coaching staff.
Also an Academic All-OAC during his career, Jeff maintained over a 3.75 grade-point average and stayed involved throughout campus. In addition to being a presidential scholar, he was a member of Phi Eta Sigma (honorary society) and the Alpha Tau Omega fraternity.
Jeff culminated his time at Otterbein with some national recognition for work in the classroom, garnering second-team Academic All-America honors in 1997.