Stovall, Art
BACK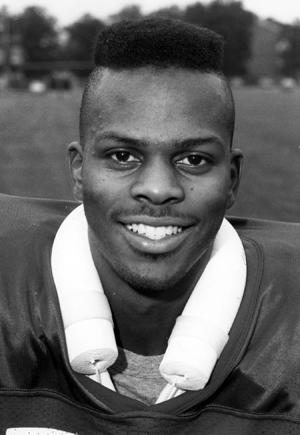 Local product Art Stovall built a second home at Otterbein, staying close to his roots and evolving into a two-sport star for the Cardinals.
A four-year starter on the football field, Stovall quick inserted himself into the lineup and became one of the top defensive backs in program history. He started 39 of a possible 40 career games, missing just one his sophomore year with a rib injury.
A true shut-down corner, Stovall possessed rare speed and athleticism that helped him earn Otterbein "Defensive Freshman MVP" honors. He was soon voted second team All-Ohio Athletic Conference (OAC) as a sophomore in 1987, and earned firs- team honors in 1988 while playing most of that season with a broken hand.
Standing 6'1" and 185 pounds, Art led Otterbein in pass breakups three different seasons and was selected co-captain by his teammates prior to his senior year. He played his way to national recognition that fall in 1989, recording 42 tackles and 12 pass breakups despite teams consistently throwing away from him. His efforts earned him an honorable mention All-American spot from Football Gazette.
He finished his career with 157 total tackles, 53 pass breakups, three interceptions and two fumble recoveries.
Stovall's production for Otterbein never stopped in the fall, as he quickly transitioned each year en route to becoming a four-year letterman in both indoor/outdoor track and field. He served as team captain for three years, earning All-OAC status in the hurdles and jumps, as Otterbein won the conference meet in 1990.
Stovall, who now works as a physical education teacher, coached football at Northland High School before transitioning to the Westerville area, where he still coaches football along with track and field.  He and his wife, Jennifer, have two sons; Jakari and D'Andre.