Curbow, Austin
BACK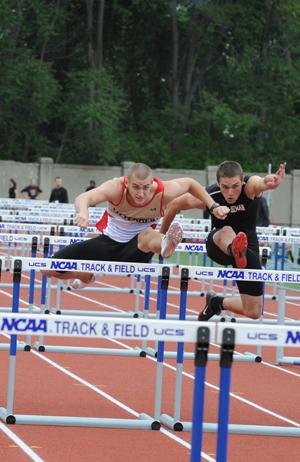 Austin Curbow had one of the most prolific track and field career's in Otterbein history and racked up an extensive list of accolades during his four-year stint as a Cardinal.
The Gahanna native ended his career at Otterbein as a three-time indoor All-American and two-time NCAA Championships outdoor qualifier. He also won seven Ohio Athletic Conference (OAC) titles, setting a school record in the 55-meter hurdles (7.53 seconds) and a school and conference record in the 60- meter hurdles (7.98). Only twice was he defeated by another OAC athlete.
Curbow didn't waste any time turning heads on the track, earning All-American honors as a freshman by finishing eighth in the 55-meter hurdles at nationals in 2009. Curbow was once again named team MVP in 2010, but missed out on making it to nationals due to injury. He bounced back with All-American honors as a junior, finishing fourth in the 55-meter hurdles at nationals. He also qualified for the 110- meter hurdles at the outdoor national championships for the first time in his career.
For his senior season, Curbow once again qualified for indoor nationals in the 60-meter hurdles and went into the event as the favorite, sporting the best time in NCAA Division III that year. He again earned All-American honors with a third-place finish in the event. He again qualified for outdoor nationals for the 110-meter hurdles in 2012, where he finished tenth for the second year in a row.
Curbow remained a part of the Otterbein track and field program after his career, coming aboard as a graduate assistant coach.